Tesla sold over 90,000 cars in the second quarter, exceeding expectations in times of pandemic. Compared to last year, their sales have only dropped 5 percent.
Other car dealerships saw their sales drop over 30 percent in the global and national context of lockdown. Some of these are popular vehicle choices in the United States, such as Toyota Motors, Ford, General Motors, and Fiat Chrysler.
Elon Musk, the CEO of Tesla, strongly disagreed with the "stay at home", and "close down factory" orders since they would negatively affect consumers and sellers.
Exceeding analyst's speculations
In the end, the 90,650 electric cars sold by Tesla surpassed analysts' guesses. They had speculated that the company's sales would fall compared to the first months of the year, taking into account that they sold 88,400 vehicles in the first quarter.
FactSet had calculated that the company would sell around 72,000 vehicles during the second quarter. Bloomberg guessed a little higher saying Tesla would sell approximately 83,000 cars in the last three months.
Tesla's High Market Cap during the global pandemic
During the beginning of this month, Tesla's market cap was at around $224.176 billion. That would make it the most valuable auto company in the world right now. As a comparison, other market caps are at $174.211 billion for Toyota Motors, $20.134 billion for Fiat Chrysler, and $24.061 billion for Ford.
This capitalization is higher than globally known companies such as Coca Cola, Disney, Exxon Mobil, Cisco, and others.
According to CNN Business, Elon Musk's electric car company is under only 19 other companies' market cap that are part of the S&P 500. Some of these are CNN and PayPal. Remember Tesla is not yet part of the S&P 500.
Tesla Shares Analysis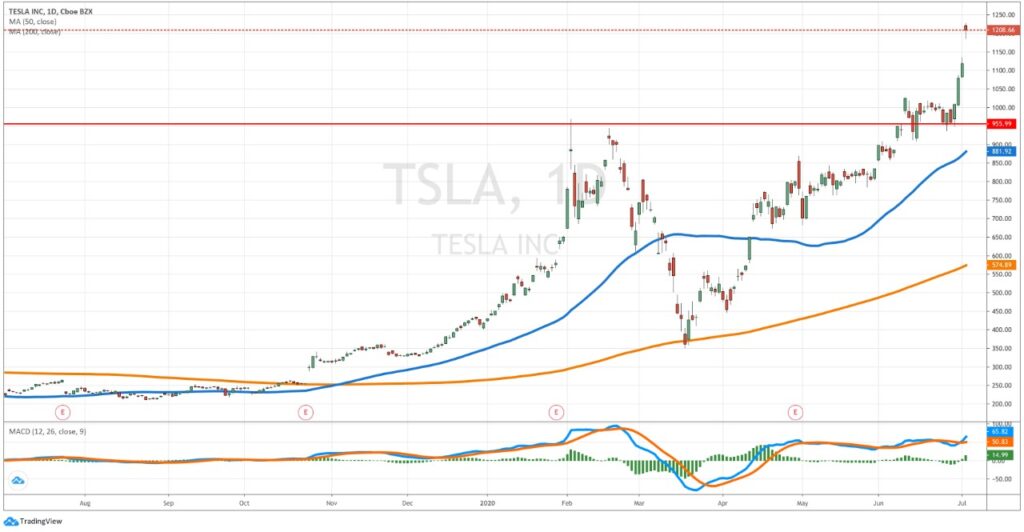 Shares of Tesla closed the week with an outstanding jump following the news on better than expected car production. On Thursday, the day of the report, TSLA jumped to a new all time high of $1,228.00. Then, it consolidated levels and closed the session at $1,208.66, which was 7.95 percent up on that session.
As Friday was a bank holiday in the United States, that jump was the final act in a great week for Tesla. Overall, the TSLA share skyrocketed 25.94 percent in the week. The best week since April 2020.
Technical conditions for TSLA are bullish with strong indicators signaling the current uptrend remains intact. However, be aware of potential profit taking and overbought conditions.
MACD is bullish, upside momentum is solid and moving averages are pointing to the north.